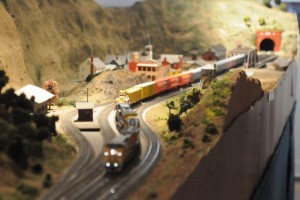 The Maryland and West Virginia Model Railroad Association layout is an attraction not to be missed! This is an HO and G Scale model railroad layout located in the old Jockey Club Building, south of the main grandstand. The HO system is Digitrax, a system that allows us to control multiple trains and track switches and many others. Our G scale layout is standard DC (Direct Current) with lots of houses, people, and one of a kind farm.
Programmable overhead lighting enhances the reality of the B&O and Western Maryland Railroads in Cumberland and surrounding areas. Shank's Coal Mine (aka Ida Mae Mine) greets visitors entering the 40′ by 80′ HO model railroad display. The scenic Cumberland to Connellsville railroads are authentically reproduced to 1/87th scale for spectators to revisit the rich railroading history of our area. The mountains of Western Maryland provide breathtaking scenery for trains to wind and twist through trackage that began circa 1850.
The streets of Downtown Cumberland have been paved and buildings are springing up along the Flood Control Walls along historic Will's Creek. From the cliffs of Lover's Leap in the Narrows to its terminus at the Potomac River by the Western Maryland Scenic Railroad Station, waters peacefully flow through Cumberland. The viaduct in North End and familiar buildings such the Old German Brewery/Furlow's Garage and various businesses and landmarks of yesterday's downtown can be spotted as viewers scan the familiar streets.
The Reithoffer Shows have returned to the miniature midway sponsored Fair Manager, Kevin Kamauf. New this year are unassembled amusement rides arriving by big rig tractor trailers. Be sure to look for these fascinating, lighted, spinning, mechanical masterpieces in motion while you visit.
Trees, trees, and more trees line the mountains through which the B&O and Western Maryland traverse. Club members spent many hours making realistic scenery from sedum plants and numerous weeds found in nature. Watering Will's Creek, the 1950's Flood Control Project, and Helmstetter's Curve are next up for completion.
Train buffs of all ages are welcome to visit and share railroad stories!
Open Wednesdays from 6:00 – 9:00 pm and Sundays from 1:00 – 5:00 pm .